Hi, my name's Ben. I live with my partner Chris in Culpeper, VA. Until recently I was the Chair of the Democratic Party of my county. In 2017, Senator Bryce Reeves campaigned on keeping openly gay people like me out of public service. Now I'm running to replace him.
About me.
I'm 36 years old. I was born in Monroe, Louisiana and graduated high school in Natchitoches, Louisiana. I come from a big family of public school teachers. My granddad was highschool principal of Mangham, Louisiana and even wrote the book on it. My mom is an English professor in Tennessee.
I went to undergrad in Manhattan for computer engineering and grad school in Seattle for computer engineering, where I worked in a research lab, a startup, and was a National Science Foundation research fellow. I've published several scholarly papers in the fields of AI and natural language processing. In 2016 I moved to Culpeper after my partner of 15 years was offered his dream job here at the Library of Congress.
Less than a year later, Donald Trump was elected president and divisiveness took over our politics, and my priorities completely changed. I ended up in a place I never expected: public service. I was the Democratic nominee to the House of Delegates for Orange, Culpeper, and Madison counties in 2017, when I won 38% of the vote in a ruby red district. I was the first Democratic House candidate in nearly 20 years to win a precinct in my district and one of only a handful of rural Democrats in Virginia to match the Governor's top-of-the-ticket performance.
Since the beginning of 2018 I've been the Chair of the Democratic Party of Culpeper County. Through the infrastructure I built as a candidate in 2017 and the reforms I instituted as a county chair, I have demonstrated my ability to successfully create positive change.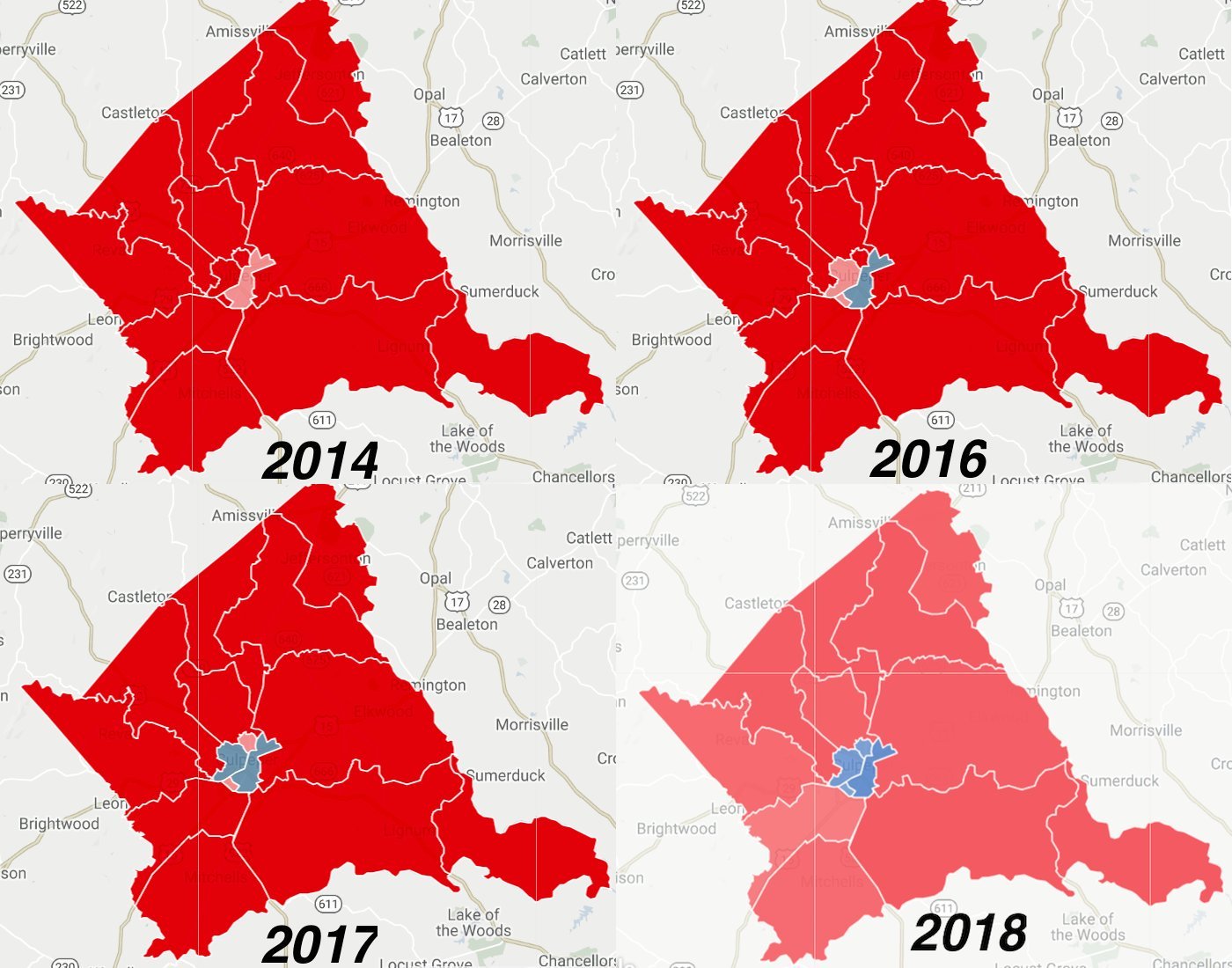 The vision that ultimately drives me is a politics defined by decency instead of divisiveness, guided by a fundamental belief that we are all neighbors at the end of the day. It's time to end the partisanship that cripples us, put people first, and work together as neighbors and concerned citizens to expand opportunity across Virginia. 
Bird's eye view of the issues.
We need more vocational training. More healthcare and mental healthcare. We need to legalize marijuana, end the school-to-prison pipeline, and get serious about criminal justice reform. We need reliable broadband in rural areas, tools for small farmers, and aggressive action on climate change. We need the tools and the freedom to take care of ourselves. See my issues page for more.
About the 17th district of the Virginia Senate.
Not sure if you're in my district? We span the southern part of Culpeper including the town, all of Orange County, most of Louisa, the northeast corner of Albemarle, the middle third of Spotsylvania, and all of Fredericksburg City. You can look yourself up on this interactive map to find out your district.
Is this seat winnable?
Yes! Decision Desk HQ has rated my district a TOSS-UP. Tim Kaine won it by 7 points. I know I can get the win numbers I need, because I got them in 2017. I just need to repeat my performance. Let's flip this seat and win back the Virginia Senate!